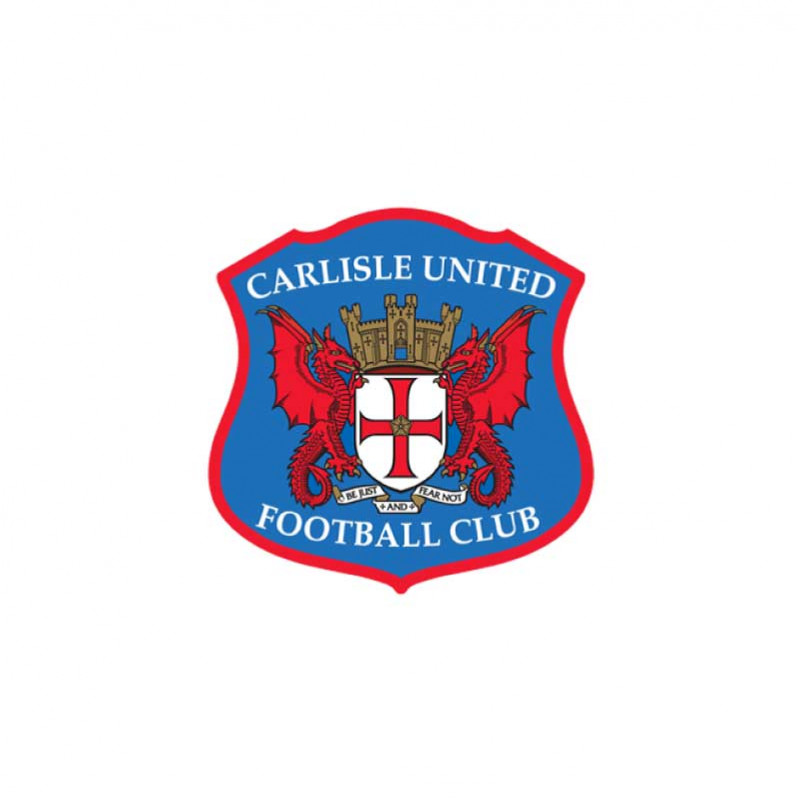  
Carlisle United FC Fan Visual
Show your support by being a Blue in the Crowd!
Carlisle United fixtures are scheduled to be behind closed doors for some time, but you can still show your support to the Blues by having a face in the crowd which will be displayed on a seat or in the terraced area of your choice in Brunton Park.
Fans can buy a cut-out of their face and upper body, or that of a departed Blues friend or family member, which will be printed and displayed in the ground for all of the home matches where fans are locked-out.
Each cut-out costs £25 with an image of your choice printed on polypropylene cut-out which is made from 100% recyclable material and weatherproof.
Why not make it even more of an event by having your whole family (even your pet) printed and displayed.
The next home match is against Cheltenham on 14th November 2020, in order to have your cut-out ready to display for then, please make your order before 12am (Midnight) on Wednesday 11th November to ensure you secure your seat/terraced area! You can continue to purchase after this date and images will then be displayed at the next available home game.
To place your order, visit the Face in the Crowd website and make sure you click on Carlisle United.
Once the cut-outs are displayed at the ground we will post images of the display on the club's official social channels and through our website for you to see.
Once fans are back or the 2020/21 season has been completed, the cut-outs will be collected and safely stored at the ground. You can have them back or donate them to the club. Maybe one day, your cut-out can be signed by the players or you can have your photo taken with a player and your cut-out.
Carlisle United FC and FITC cannot take responsibility for any cutouts which may be damaged during a match.
Please note that due to the volume of orders, we are unable to place your visual in a specific seat.
Please ensure you have read our disclaimer details below.




All orders will be delivered directly to the club, not your home address.



Your delivery address is for reference purposes only and will not be shared with third parties
How to order your cutout:
Step 1. Make a purchase through Face In The Crowd Store (add a number of cut-outs to cart and follow checkout process)
Step 2. Take note of your Order ID (9-letter unique code), you will also receive it via email

Step 3. Go to faceinthecrowd.me website using your smartphone
Step 4. Select your Club and follow the instructions on the screen to take your photo within the cutout area
Step 5. Input your email address and the Order ID, tick the boxes to agree with Ts & Cs and press "Complete My Order"
Please note: if you purchased more than 1 cut-out, you will be able to use the App multiple times in the same fashion until you run out of "credits"
That is it! Simple, right?
Our automated software will remove the background from your photo and transfer the file over to be processed by our print partner. You will receive an email notification at every step of the process to keep you in the loop. 
Please note: for iPhone users - if you are not prompted to access your camera or the screen appears blank, please go to Settings > Safari > Camera and change the setting to either Ask or Allow access.
To ensure the best image quality we strongly recommend using the App.
If you are experiencing any issues, please get in touch hello@faceinthecrowd.store
Security
Delivery
The virtual fan will be printed and cut to shape. Our production partners use technology that is exclusive to the UK.
All products will be printed on the highest-grade 4mm corrugated polypropylene material. This material is designed to provide properties of longevity, is non-toxic and has fire-retardant properties.
After it has been produced, the loyal visual fan will be delivered directly to the club and installed at the club's stadium.
Due to the nature of the installation process, we are unable to place the cut-outs in specific seats and cannot guarantee that family groups will be placed together.
The collection will be arranged on a future date and will be subject to government restrictions around social distancing.
We will provide more information about this when we are able to.
Although the cut-outs are made of robust material, they may incur damage whilst in the stands and we cannot take responsibility for this.
Please ensure you do not upload any inappropriate images. All images will be checked before installation and if your photo is deemed to be inappropriate it will not be installed and a refund will not be offered. Offensive and inappropriate images include nudity, offensive gestures, or people of notoriety.
In purchasing and uploading an image you are agreeing to GDPR consent that your image on the product may be used in further marketing activity and campaigns.
In the event of any dispute by placing your order you agree to the Club's liability to be no more than the original value of the product.